GIPS performance verification "click here"

At Power Asset Management, we pride ourselves on knowing our clients. Direct lines of communication between clients and the Chief Investment Officer – the person who structures each portfolio – is what sets our firm apart from larger institutional money managers. It is this element that ensures that the investment policy and client goals are followed at all times. We are committed to having open lines of communication and all clients have direct access to Mike Power, the firm's Founder and CIO.
Power Asset Management individually tailors high quality taxable, tax free, and blended portfolios to meet our clients' specific needs. Safety of principle and secure income is our goal and is not sacrificed in pursuit of performance. While we focus on asset protection, performance is achieved with credit research and diligent portfolio duration analysis that is within State guidelines and the investment policy mandate.
We focus on asset protection, maximizing after-tax and risk adjusted returns based on our view of appropriate duration positioning on the Yield Curve and intense credit research.
Strategies
We use the "Barbell Strategy" when opportunistic which is particularly beneficial to tax-free clients.
We take advantage of the "retail" buying patterns of typical municipal bond buyers which emphasizes a "laddered" approach.
We typically over-weight our allocation to certain parts of the Yield Curve and buffer our weightings in the 1 to 5 and 10 to 15 year range to ensure proper liquidity and better returns.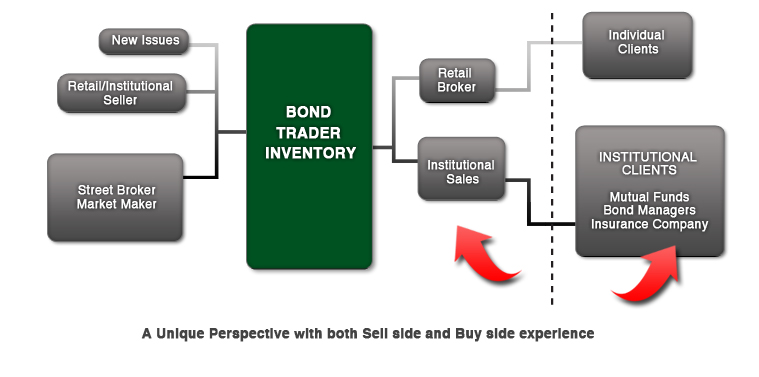 ---

Execution:
Block Trades Enable Institutional Pricing

We realize the power of "blocking up" trades to receive the benefit of institutional pricing.
We buy blocks of securities that are part of large issues as institutions often seek out these holdings to "match" to their current positions.
This approach creates greater demand and therefore better liquidity for our clients.
Relationships with Research Analysts, Brokers and Traders

Our broad industry relationships and significant sell side experience is invaluable when it comes to execution and obtaining market color.
Our close relationships with analysts, traders and bond brokers, which are based on decades of trust, allow us to see product and gain market insight typically unavailable to other fixed income managers.
When capitalizing on market inefficiencies, it is not always what you know but who you know that drives superior execution.
Our goal is to buy the right bond at the right price from the right firm at the right time.